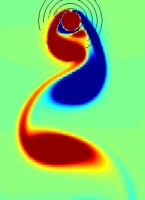 Vortex street generated by current flowing past an island.
Curriculum Vitae
Download my comprehensive CV for a printable version with full detail. The following provides an on-line summary.
Education
Appointments
Honors and Awards
Best Graduate Student Paper Award, given annually by the Offshore, Ocean and Arctic Division of the American Society of Mechanical Engineers (ASME), August, 2002
Texas Engineering Experiment Station (TEES), Select Young Faculty Award, Fall 2006
Zachry Department of Civil Engineering inaugural Recipient of Excellence in Research Award, Spring 2007
Zachry Department of Civil Engineering Award for Excellence, Fall 2008
Department of the Army Commander's Award for Public Service, U.S. Army Corps of Engineers, Spring 2008
Guggenheim Fellow, Natural Sciences, 2010
John and Dorothy Shea Early Career Chair in Civil Engineering, USC, Fall 2011
Walter L Huber Civil Engineering Research Prize, ASCE, Fall 2013
Professional Societies
Member: American Society of Civil Engineers (ASCE) | Coasts, Oceans, Ports and Rivers Institute (COPRI) | Association of Coastal Engineers (ACE) | Earthquake Engineering Research Institute (EERI) | Network for Earthquake Engineering Simulation (NEES) |The Tsunami Society |International Association of Hydraulic Engineering and Research (IAHR) | American Geophysical Union (AGU)
Research Projects
Visit my Research pages for details.
Publications
Visit my Publications pages for a comprehensive listing.
Scholarly Activities and Contributions
COULWAVE and pCOULWAVE Boussinesq Wave Models.

COULWAVE is a Boussinesq-type wave model used for coastal and ocean wave propagation. See the COULWAVE and pCOULWAVE pages to download the source code, examples, and users manual.

Post-Disaster Field Surveys.

Lynett was a member of the 2005 International Tsunami Survey Team to Sri Lanka and the 2005 Hurricane Katrina Coastal Impacts Survey Team sponsored by ASCE. For more information, see Photos in the Research section.

Ph.D. Thesis.

A Multi-Layer Approach to Modeling Generation, Propagation, and Interaction of Water Waves. Supervisor, Dr. P. L.-F. Liu, 2002.

M.E. Thesis.

Evaluation of the Lake Source Cooling Intake System. Supervisor, M. Weber-Shirk, 1998.
Professional Consulting
I have served as a consultant for D'Appolonia , Surfbreak Engineering Sciences, Inc., Taylor Engineering, and a number of other firms.
Teaching and Courses
Visit my Teaching pages for a description of my teaching activities.
Students Supervised
The Research Group page summarizes my supervising activities.
Peer-Review Activities
I serve as a reviewer for manuscripts and proposals for (among others): Journal of Engineering Mechanics | Journal of Fluid Mechanics | Journal of Waterway, Port, Coastal, and Ocean Engineering | Coastal Engineering | Ocean Engineering | JGR-Oceans | Journal of Computational Physics | International Journal for Numerical Methods in Fluids | Pure and Applied Geophysics | U.S. National Science Foundation | Sea Grant